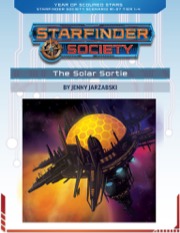 The Dead Suns are dead. With the busy nature of the holiday season I'm going back to running SFS scenarios with the intent of running Against the Aeon Throne beginning in Mid/Late January with those interested. I also have dreams of being able to run weekly... maybe... life...
In whatever case, the plan is to run Scenarios 1-07, 09, 10, 12, 16, 18, 20 and 22. Anyone feel free to drop in.
A Starfinder Society Scenario designed for levels 1–4.
When Historia-7, the leader of the Dataphiles faction, uncovers the first hints of a conspiracy operating against the Starfinder Society, the PCs must assist her in uncovering the truth. Sent to a corporate space station orbiting the Pact Worlds' sun, the PCs must earn favor with the hedonist son of a corporate CEO to gain access to the confidential files Historia-7 needs. However, the PCs are stuck in the middle when this corrupt dilettante's proclivities and shady associations emerge to thwart the Starfinders' covert infiltration.
Content in The Solar Sortie also contributes to the ongoing goals of the Dataphiles faction.
GM: Ian
1. Elisha
2. Kelly
3.
4.
5.
6.