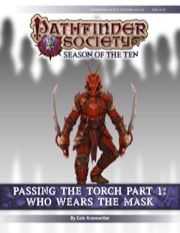 A Pathfinder Society Scenario designed for levels 12–18 (Subtiers 12–13, 14–15, and 17–18).
For more than a decade, the infamous information broker, former Pathfinder, and thoroughly controversial mastermind Grandmaster Torch has pursued vengeance against the Decemvirate and the Society as a whole. Yet for all the Society's countermeasures, Torch has consistently procured seemingly unattainable intelligence that makes his schemes ever more dangerous. At last, the Society has identified his chief accomplice and informant who has evaded Society scouts by hiding out where Pathfinders are forbidden on pain of death: Mediogalti Island, home of the notorious Red Mantis Assassins. Yet Grandmaster Torch's imminent endgame threatens the whole Society, if not Absalom itself, and if the PCs are to uncover the plot and avert disaster, they must infiltrate one of the Inner Sea's most deadly cities and neutralize a powerful threat.
Who Wears the Mask is the first of two seeker-level adventures in the Passing the Torch series that concludes Season 10, and these adventures take place in parallel with the events of Pathfinder Society Special #10-98: Siege of Gallowspire. This adventure is followed by Pathfinder Society Scenario #10-23: Passing the Torch, Part 2: Who Speaks for the Ten. These two scenarios are intended to be played in order.
GM: Mike M
Campaign: Regular
Subtier: 12-13, 14-15, 17-18
Lady Majet
Gordd
Dimitria (& Vlad)
Ruby / Leandra
Goliath
3G
Retina